Brother Bear & Brother Bear 2 Blu-Ray Available For Pre-Order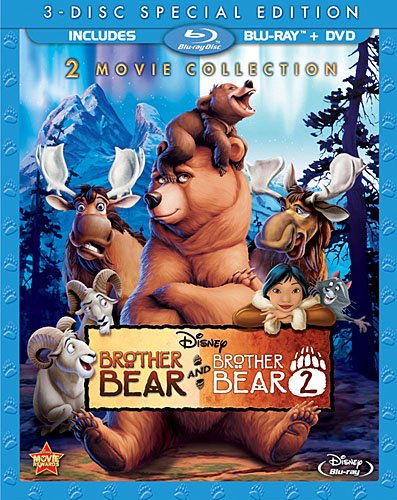 Good news! Brother Bear and Brother Bear 2 is now available on Blu-ray after a delay and missing the previous news release date. The movie is available as a combo pack that will include both movies.
According to the press release, the Blu-ray pack will contain the two films in 1080p, bonus contents like deleted songs and scenes, various making of videos and will be available on March 12.
Pre-order is available through amazon.com.
New 3-Disc Blu-ray Combo Pack
Available for the First Time in a 2-Movie Collection
Debuting March 12, 2013

Synopsis: Two warm and wonderful Disney adventures arrive together for the first time ever in a Blu-ray Combo Pack! Families can share the heartwarming and hilarious tale of "Brother Bear" — the 2003 Academy Award® nominee for Best Animated Feature—and "Brother Bear 2" in one incredible 2-Movie Collection. Bring home an entire forest full of fun, complete with digitally restored high definition picture and sound.
After an impulsive boy named Kenai is magically transformed into a bear, he and his little brother bear, Koda, take a courageous (and often hilarious) journey to see the Northern Lights. Experience the excitement of these two fantastic films like never before on Disney Blu-ray March 12!

Cast: Joaquin Phoenix ("The Master") as voice of Kenai ("Brother Bear")
Rick Moranis ("Ghostbusters") as voice of Rutt ("Brother Bear" & "Brother Bear 2")
Michael Clarke Duncan ("The Green Mile") as voice of Tug ("Brother Bear" &
"Brother Bear 2")
Patrick Dempsey (TV's "Grey's Anatomy") as voice of Kenai ("Brother Bear 2")
Mandy Moore ("Tangled") as voice of Nita ("Brother Bear 2")
Wendie Malick (TV's "Hot In Cleveland") as voice of Aunt Siqiniq ("Brother Bear 2")
Director: Aaron Blaise & Robert Walker ("Brother Bear")
Ben Gluck ("Brother Bear 2")

Blu-ray Contents: Two Feature Films in Disney Enhanced HD Picture and Sound
Deleted Song
Deleted Scenes
Hilarious Animated Outtakes
Rutt & Tuke's Commentary
Bear Legends
Sing-Along Songs
Music Video
The Making of "Brother Bear"
Behind the Music of "Brother Bear 2"

Street Date: March 12, 2013
Direct Prebook: January 15, 2013
Distributor Prebook: January 29, 2013
Rating: "G" in the U.S. and Canada ("Brother Bear")
"G" in the U.S. and Canada ("Brother Bear 2")
Bonus material is not rated
Feature Run Time: Approx. 85 minutes ("Brother Bear")
Approx. 73 minutes ("Brother Bear 2")

Suggested Retail 3-Disc Blu-ray Combo (1 Blu-ray + 2 DVDs) = $39.99 U.S. and $46.99 Canada
Prices:
Aspect Ratio: Blu-ray 1080P High Definition:
"Brother Bear" 2.35:1
"Brother Bear 2" 1.78:1
Sound: Blu-ray: English 5.1 DTS-HD Master Audio
English 2.0 Dolby Digital
Spanish 5.1 Dolby Digital
French 5.1 Dolby Digital
English SDH, Spanish and French subtitles